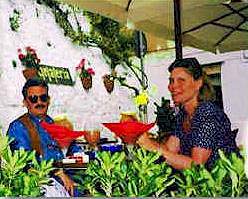 We like to present, our friends from Italy, Carin and Maurizio Mariani, who has there resident in the city of Roma. They have become our best friends, and we has visit them a couple of times. There´s hospitality is enormous and give us a home-feeling.
Maurizio are a great cook and can in some magic way, create marvellous dishes.
Our friendship started in 1990, when they bought a puppy from us, Ch.Ital. Jr.EUW-90, Int. Sociale-92 &93 Jegulini´s Carl Butler. He is nine year old.
Butler like to guide us around the city, on our visit,he know everybody, specially the butcher,
crew at the bar and most of the restaurants. When we passing by, all of them shout "Butler , Butler", and they want to give him something to eat.
Carin And Maurizio get interested of exhibitions and the first show, was European Exhibition 1990. The interests proceeded and 1994, they bought there's second cairnterrier, a female; Tribuns Kamomill, a daughter to our Jegulini´s Häftiga Harry. Carin has her first litter now, a very successful combination, and from that we have bought a male, named Artful Amadeus "Tiger" ( grandchild to Jegulini´' Häftiga Harry). Tiger was very charming on our visit, he is a real cairnterrier with a foxy glint in his eye.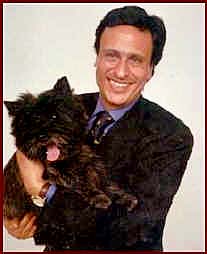 Butler has worked with advertising...
Here is butler together with the show master to "Collare D´Oro" 1994, a very important Italian dog show on TV, and a show ,Jegulini´s Carl Butler was invited to, and get to the semi-finals.
Only the one hundred most successfully dogs in Italy was invited to the show.
The picture was chosen for advertising for TV-schedule magazines.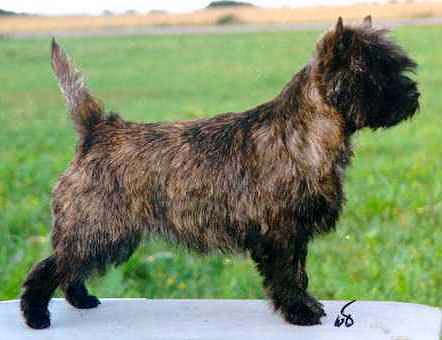 Itl Ch.Campione Sociale-95
Tribuns Kamomill
(e. Jegulinis Häftiga Harry, 2 Cert
u. Multi. Ch. Triuns Chloè)
Kamomill is mother to Artful Amadeus " Tiger", which now lives with us.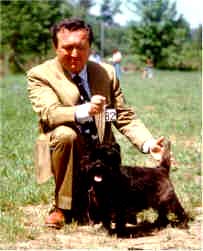 We has even visit Alberto Tartari, who has his resident in Bologna, and are breeding cairnterriers. The name of the kennel is Giorsal. Alberto is very hospitality and has often invited us on generous dinners.He is willingly to show his dogs at the kennel. and we also met some of the puppy buyers, all with same hospitality.
Alberto & CH INT IT Austriaco, Riproduttore,GIORSAL SIGFRIDO
San Marino,Club Sieger Svizzero,Top Cairn-95 in Italia
Alberto has bought a puppy from us, a female named Jegulini´s Himla Hedvig. He named her Edi. We hope she shall bring him lot of joy.
The Italians consider food is very important in life, and as a guest you realise, they always put lot of effort into the dishes.
The journey in Italy is a pleasant experience and the landscape is very beautiful. We are always driving by Florens, which are a beautiful town, with many bridges, as you can se from a look out at a hill.
Italy is worth a visit and we wish one was back.

Start Jegulinis Cairnterrier Cairnpuppies