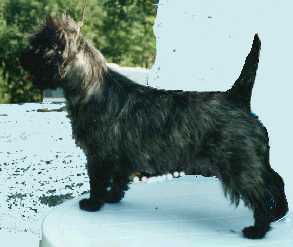 Such Sarimont Stewardess named "Ellen"
Ellen is a female, five years old, which we bought from Kennel Sarimont. All expectations we had on her , have she fulfilled. She like to show so exhibition was no problem.
In short time she get the champion title. Ellen is a cheerful soul in our home and a wonderful mother to her puppies. Look under "Cairnpuppies" for more.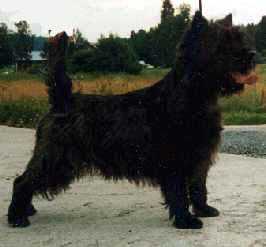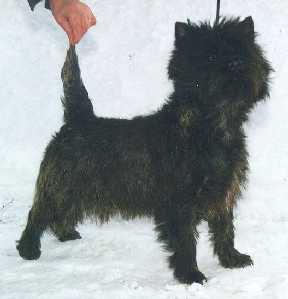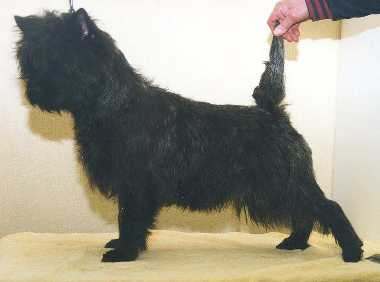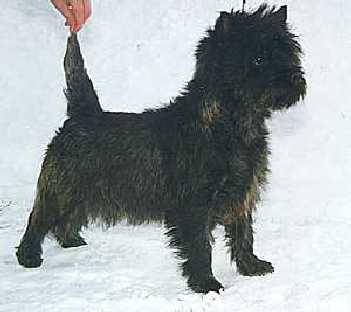 Tiger is a four years old male, who is happy with the life. He is nice to everybody, the cat, other males and particularly females. We are happy to have him at our home. He is breed by Maurizio and Carin Mariani from Italy. Tiger is very special dog, with special manors. He stealing things which he collects under a tree at the garden. We can find purses, pastille boxes, shoes, gloves and so on. The funny part is, he don't chews at the objects, he just store it up, so we have to bring the things in, at the evening.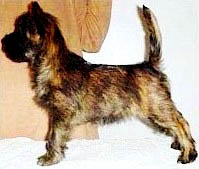 Alma is a cheerful female, born in December 1998.She is alert for everything's and enjoy the life.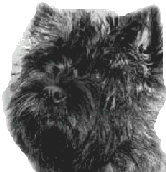 Our first cairnterrier was bought in the middle of the seventies and was named "Fighting Barretta", Because of that dog, we get a great interest for the race and we received lot of know-alls from Fasten family.
The first cairnterrier we took to a exhibition was Such SF Lp Salmix Tjabo Bello, he come to us 1984. Tjabo is a very smart dog, and he learn the traffic rules from the children. What side of the road we walk on, where to stop , and so on. Once he did a forbidden runaway, and when we saw him , he tried to convince us , he had hurt his leg badly, so maybe somebody should feel sorry for him. and forget the runaway. But he hasn´t hurt himself at all he was only playing a joke for us. Tjabo get first price and a diploma in a competition of submissiveness. The feeling afterwards was great, when some had make some remarks like " What can such a little dog bring out".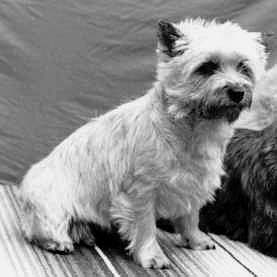 Jeanette was the owner of the cairnterrier named "Elin", and she follow Jeanette, when she moved. Elin was our female of the race in our kennel, and has given us wonderful puppies, like Such Jegulini´s Daffy Jo´Nċ and Int.ch Jegulini´s Carl Butler, and lots of puppies with one or two certifications.
Elin never get fond of the world around exhibitions but received a couple of certifications. Jeanette tried competition of submissiveness, but Elin was a lady with style and refused to be wet on her feets. She refused to compete when it was raining. Concerning the weather you never know

Cairn in Italy Cairnpuppis Links Guestbook
Skip Previous Site |Previous Site |Random Site |List Sites |Next Site |Skip Next Site][

Klik for at tilmelde den Skandinaviske Cairn Terrier Liste
*****